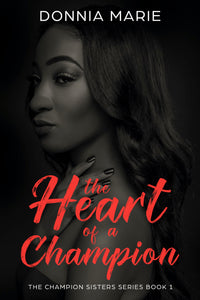 The Heart of a Champion (Signed Paperback)
Regular price
$15.99
$0.00
Unit price
per
How does a man handle the risk-taker, a no-nonsense type of woman such as Zafirah? The one who seems so well put together on the outside but won't let anyone within an inch of discovering what's inside. Without a doubt, Zafirah is a daddy's girl and in her eyes has the perfect role model as a father which makes it hard for any man to compare. Is her heart even capable of allowing another being to direct her steps? Does she even want to be handled? Her passion for designing clothes and opening a boutique is all she's worried about until her heart takes a turn when she realizes the chemistry that she and Troy share.
Mr. Champion, Zafirah's father regards Troy as his son. Will the close-knit relationship they share be a stumbling block for Troy and Zafirah? Is Troy what Mr. Champion envisions for his daughter? Will Zafirah and Troy go against the grain to be with one another?
Troy Cunningham is an example of a man that can overcome any obstacle and still succeed despite the statistics. He went from dealing in the streets to owning a successful business and his growth as an evolving individual shows daily. However, hardships later plague him and his heart is on the line. Will he continue to win in the game of life?
"Please… When you have me all to yourself, you don't know what to do." ~Zafirah~
"I missed you too Zee, so stop flexin' all the time." ~Troy~
---
Share this Product
---