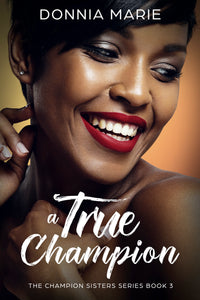 A True Champion (Signed Paperback)
Regular price
$15.99
$0.00
Unit price
per
What is a true champion? More importantly, what does it take to love a true champion?
Ameka Champion is the middle sister of the Champion Crew. She is a goal-getter in addition to a positive light and energy not just to her family but to anyone who she deems important. She's a woman about her business and her family and not looking for any romantic entanglements… Ameka is perfectly fine with keeping things on a surface level with the men she involves herself with. That is until Emery Coleman steps into the picture.
Never underestimate Mr. Quiet Storm. Emery is a reserved and precise man; he conquers everything he sets his mind to possess. Despite his growth and current successes, he allows his mishaps from the past to internally haunt him, allowing those issues to dictate his present and future with people who want to be in his life for the long haul. But can Mr. Coleman get over his past and not only hold on to his sanity but hold on to the one woman who has strategically and intricately placed herself in his life. Emery is not a man of many words. Still, he has no problem removing anyone who tries to penetrate the bubble he's built with the hopes of keeping everyone out so that he may move forward with his pursuits without pause.
Will Ameka and Emery make room for each other when they both have barriers and walls that were created to keep outsiders at bay? Take a ride with them as they discover that picking the ride partner and letting them in could be the best thing to happen to you.
A True Champion is Book 3 in The Champion Sisters Series and may contain spoilers for books 1-2. It is recommended that you read those books first.
The Champion Sisters is a series spotlighting four sisters with very different personalities that are conquering their own world, in their own way, at their own pace. Join them on their journey as they navigate through family, careers, and life. Discover how they all end up coming out as champions.
---
Share this Product
---